Welcome to Sea Lapland –
literally!
Starting from Kemi's charming Inner Harbor the venerable M/S LEILA offers scheduled sailings as well as charter cruises off the coast of Sea Lapland for up to 60 passengers at a time. Join us for a 90 min tour of the nearer archipelago including stops at the traditional saw mill island LAITAKARI, Syväletto and Selkäsaari. With three departures daily, you can also choose to break your trip at any intermediate point.
family
(2 adults + 2 children)

Route
Kemi / Inner Harbor – Laitakari Island – Syväletto Island – Selkäsaari Island – Kemi / Inner Harbor
Season:
June 15 – Aug 12, 2018,
Friday-Sunday only
The summer season of 2017 has come to a close and MS LEILA is headed for a well deserved rest and some makeover. We would like to thank everybody for their support of and interest in our services. We'll resume operations on June 15, 2018. You'll find the preliminary schedule below, with updates following next spring. We hope to welcome you aboard in 2018!

Kemi / Inner Harbor
13:00 (dep)
15:00 (dep)
17:00 (dep)
Laitakari
13:20
15:20
17:20
Syväletto
13:40
15:40
17:40
Selkäsaari
14:00
16:00
18:00
Kemi / Inner Harbor
14:30 (arr)
16:30 (arr)
18:30 (arr)
Kemi / Inner Harbor
12:00 (dep)
14:00 (dep)
16:30 (dep)
Laitakari
12:20
14:20
16:50
Syväletto
12:40
14:40
17:10
Selkäsaari
13:00
15:00
17:30
Kemi / Inner Harbor
13:30 (arr)
15:30 (arr)
18:00 (arr)
Please note that all departures are subject to weather conditions. Cancelled departures will be announced as early as possible on our facebook page. If breaking your trip at an intermediate stop, please make sure to be back at the landing pier well in time before the departure of the next sailing. We are unfortunately unable to assume any liability for passengers left behind after the departure of the last sailing of the day.
Fares
Adults 15,00€
Children (4 – 12 years) 7,50€
Family (2 adults + 2 children) 35,00€
Accepted Payment Methods
Cash and Card payment. Accepted cards (credit and debit) are: Visa / MasterCard / American Express / Maestro / Electron / JCB / China Union Pay
Group reservations on scheduled sailings
We offer guaranteed availability for groups of 10 - 25 participants for an additional fee of 3€ / person.
A ticket is valid for one round trip from/to Kemi and allows you to break the trip at any intermediate point (including multiple stops).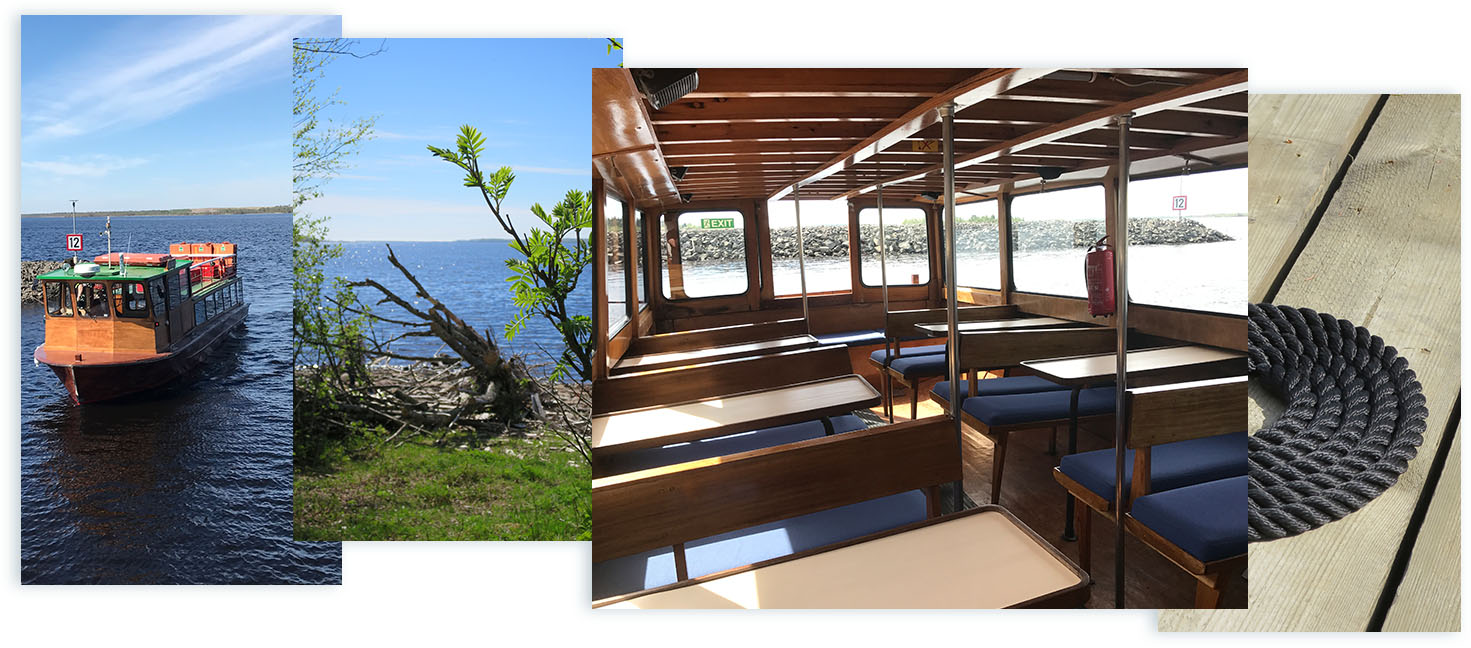 Season
June 1 thru October 15 (subject to weather conditions)
Charter cruises are calculated on an hourly basis. Passenger capacity: 60.
Please contact us for additional information, tailor-made programs and rates. We are happy to help you plan your cruise and assist you with any other services you might need during your stay in Sea Lapland.

Year of Construction: 1961
Home port: Kemi
Tonnage Gross / Net: 22 tn / 17 tn
Main Engine: Ford Trader (76 kW)
Length: 13,71 m / Width: 3,64 m / Draught: 1,35 m

7 months ago
Taas mennään! Leila on liikkeellä ja tänään ehdit vielä laineille klo 13.30 ja 16.00. Festareillekin voi hakea vauhtia mereltä, siis tervetuloa! www.merike.fi #merike #laitakari
Sales and Information
+358 400 195 266
(in English, German, Dutch and French)
M/S LEILA (seasonal)
+358 40 195 2833
Merike Finland Oy
info@merike.fi
Tietokatu 6
94600 Kemi